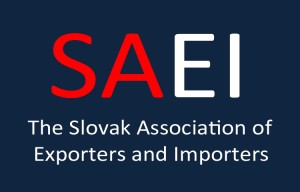 The Slovak Association of Exporters and Importers SAEI is the non-profit organization with the aim to encourage, promote, advocate, educate and inform exporters and importers in the Slovak Republic in order to facilitate, speed up, simplify and streamline their activities in foreign traden,which are leading to jobs creation in Slovakia.
For the fulfillment of its objectives, the SAEI uses the latest knowledge and tools in the field of international trade and the extended experience of its members in international business, international organizations and organizations supporting foreign trade.
We help SMEs to find new opportunities in international trade by using modern tools for the development of export and import. We are here to help you doing business in mainland Europe with reaching the main part of EU within perimeter of 1000 kilometres.
We are placed to assist as we have direct contacts with companies that are day to day doing business in Slovakia and in Europe. We know what is needed to keep business moving and we support you in Slovakia. You can turn to us every step of the way as your one-stop provider of customized solutions. Government organizations are generally pretty good at providing support. On other site government departments are not in business with you. They want you to succeed but they can usually only provide a finite amount of expertise, then stand back and wish you well. Our members and associates are someone on the ground who knows the Slovak business landscape inside out.
Our members and associates can assist you with entering the Slovak market, including a company incorporation, location of an industrial site/production hall, taxes, legal issues, hiring employees, insurance, applying for  incentives, banking, M&A, JV, etc. We will locate for you a Slovak company (European Union) to meet your requirements.
You can send a demand for Slovak goods or for establishing a business cooperation with Slovak companies to saei@saei.sk.
We will assist to open a way to the European market for you through Slovak companies and find an industrial or commercial property for your business in Slovakia.
Your inquiry will be delivered to Slovak companies – manufacturers, wholesalers, retailers or agents who are able to satisfy it.